In Tossa de Mar, a city located on the Costa Brava of Catalonia, Spain, you can find several options for shopping. The Tossa trade opens its doors and invites you to walk through the streets of the town and enter its establishments, where in addition to finding a good product, you can surely find a person willing to help you with whatever you need. We bring you some recommended places to buy in Tossa de Mar:
Historic Center: The old town of Tossa de Mar is home to a variety of boutique shops and gift shops selling handcrafted items, clothing, jewelry and souvenirs.
Calle del Mar: This street is one of the main commercial arteries of Tossa de Mar. Here you will find a wide selection of clothing, footwear, accessories and souvenir shops.
Municipal Market: If you are looking for fresh products such as fruits, vegetables, fish and meat, you can visit the municipal market of Tossa de Mar. It is a popular place among local residents and visitors who want to enjoy local ingredients.
Grocery stores: In Tossa de Mar you will find several supermarkets and grocery stores where you can buy food and other basic products.
Beach shops: If you need items to enjoy the beach, such as swimsuits, towels, sunscreen or toys, you can find specialized shops near the beaches of Tossa de Mar.
Remember that store opening hours may vary, especially during low season. It is advisable to check the hours before planning your purchases.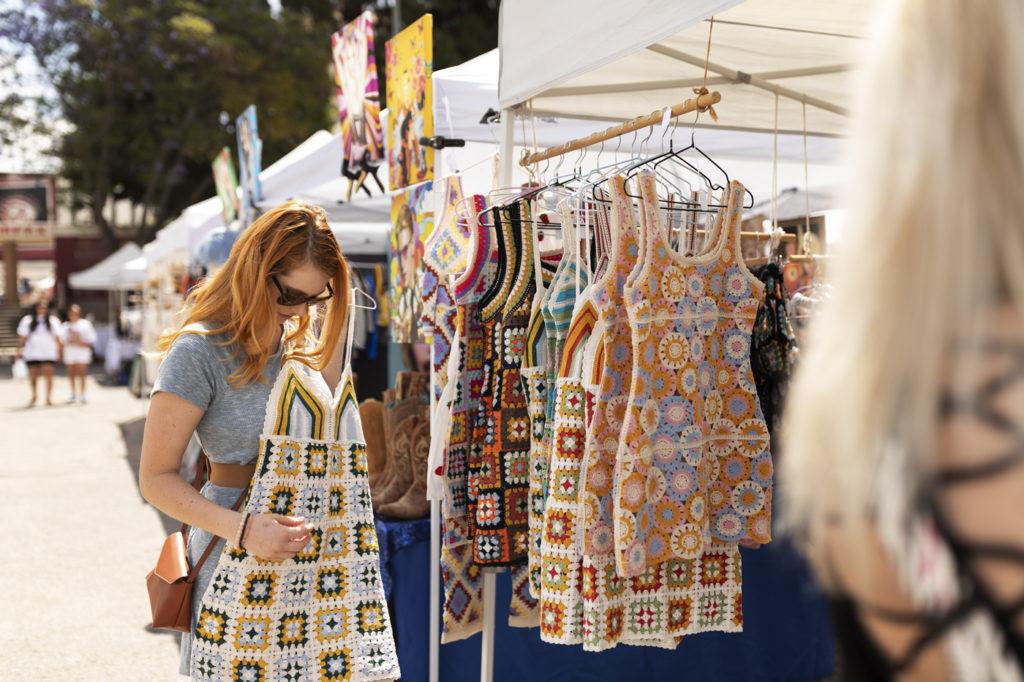 Market where to buy in Tossa de Mar
Every year thousands of tourists come here in search of sun, sea, beach and culture! As in most towns and villages in Spain, there is also a weekly market to shop in Tossa de Mar, where you can buy pretty souvenirs, trendy summer clothes, must-have items, and fresh fruit and vegetables.
Like other towns, medieval Tossa de Mar also has a lively weekly market. Any Thursday from 9:00 a.m. to 1:00 p.m., on Rambla Pau Casals and surrounding streets, we encourage you to go here to get the best deals!
In this great market where you can buy in Tossa de Mar, with no less than 100 stalls, you can find the most diverse products. As well as, you will find a wide range of typical Catalan spices and colorful flowers, but also fresh vegetable, meat and fish stalls. Ideal when you want to prepare a nice fresh meal in the evening or if you want to fire up the barbecue! In addition to delicious fresh products, of course you will also find in the market in Tossa de Mar trendy summer clothes, leather jackets, bags, shoes, belts, necklaces, bracelets and not least, gadgets for at home.
Now, if you are looking for a bargain or a nice souvenir for your home, be sure to visit this cozy market where to shop in Tossa de Mar! However, make sure you arrive on time. The market is usually busy, especially in high season, and the best deals are of course the first way!
Opening hours:
Every Thursday from 9 a.m. to 1 p.m.
Location:
Rambla Pau Casals (and surrounding streets)
Español: https://www.companygestionsclub.com/donde-comprar-en-tossa-de-mar/
Français: https://www.companygestionsclub.com/fr/ou-acheter-a-tossa-de-mar/